Lychee Sherbet
Rating: 4/5 - Votes: 2 - Views: 20226
Exotic lychee (litchi) fruit lends a refreshing flavor to this simple sherbet.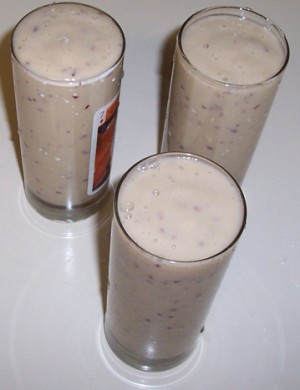 ---
Total servings:
2
Calories:
Pre-Prep time:
Preperation time:
10 min
Occasion:
Any
Cuisine:
Pakistani
Effort:
Average
Best for:
All
How to serve:
Cold
---
Ingredients:
2-4 Lychees (cardamom)
1 pk Gelatin (unflavored)
1/4 cup Water (cold)
1/3 cup Milk
1/2 cup Sugar
1 cup Half and half
1 tsp. Lemon juice
Preparation:
Peel and seed lychees.
Squeeze lychees through 2 thickness of cheese cloth to obtain 1 cup juice.
Sprinkle gelatin over cold water and let stand 5 minutes.
Scald milk, add soaked gelatin, and stir until thoroughly dissolved.
Add sugar, mixing well. Cool.
Add milk and half and half.
Stir in lychee and lemon juice.
Freeze in ice cream freezer.