Kulfi
Rating: 5/5 - Votes: 2 - Views: 13211
Delicious and easy to make homemade kulfi can be served on any ocassion.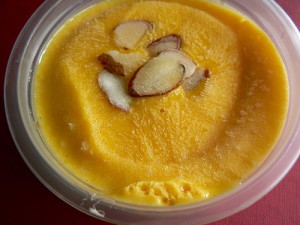 ---
Total servings:
10
Calories:
Pre-Prep time:
5
Preperation time:
10
Occasion:
Any
Cuisine:
Pakistani
Effort:
Easy
Best for:
All
How to serve:
Frozen
---
Ingredients:
1 can Carnation Sweetened Condensed Milk
1 can Carnation Evaporated Milk
1 pint Heavy Whipping Cream
1 tspn. Ground Cardomon (Ilaichi Powder)
Handful of Pistachio (out of shell)
Preparation:
In blender, first add whipping cream and blend for 15 seconds.
Then add sweetened condensed milk, evaporated milk, cardomon powder and pistachios and blend for 20-30 seconds.
Pour into small cups or popsicle cups and freeze overnight...
I promise you will love it!!!