Khitcheri
Rating: 4/5 - Votes: 3 - Views: 14187
Khitcheri is an easy dish to make. It is nutritious and a complete meal in itself.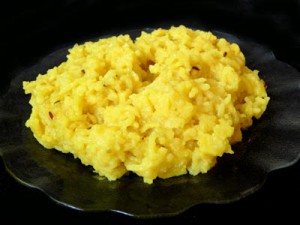 ---
Total servings:
4
Calories:
Pre-Prep time:
Preperation time:
30 min
Occasion:
Any
Cuisine:
Pakistani
Effort:
Easy
Best for:
All
How to serve:
Hot
---
Ingredients:
- 1 1\2 cups rice Pakistani basmati rice
- 1\2 cup moong dal
- 5 cloves
- 1tsp. black pepper
- 1 inch piece cinnamon stick
- 3 large cardamom
- 1tsp. Caraway seeds
- 2 tsp. salt
- 1 small onion sliced thinly
- 1/2 cup ghee or cooking oil
Preparation:
1. Put the rice and dal in a sieve and wash it thoroughly under running cold tap until the water runs clear. Soak in plenty of water for about 2 hours. Drain in a sieve and let it stand for a minute or two.
2. Heat the ghee or oil in the heavy base pan and add the onions, stirring frequently fry to a pale golden color. Add the all spices, fry for 1 minute. Add rice, lentil and salt and level with a spatula.
3. Add enough water to cover the rice by about 1 to 2 inches. ( The amount of water depends on, how mushy the rice you want.)
4. Cover with a tight fitting lid, reduce the heat and allow to cook for about 20 -25 minutes or until rice is very tender and mushy.
Transfer it to a serving dish and add butter to it, butter will melt with the heat of the rice. Serve immediately.