Khaosey
Rating: 5/5 - Votes: 2 - Views: 16549
Excellent recipe for lunch... not too heavy and tastes delicious!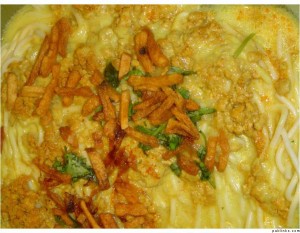 ---
Total servings:
4
Calories:
Pre-Prep time:
Preperation time:
Occasion:
Any
Cuisine:
Pakistani
Effort:
Average
Best for:
All
How to serve:
Hot
---
Ingredients:
For Karhi:
Baisan 4 tbsp
Yougurt 1/2 kg
Green chillies 6-7
Red chilli powder 1/2 tsp
Salt to taste
Tumeric (haldi) 1/2 tsp
Water 4 cups
Oil 2 tbsp
Cumin (zeera) 1 tsp
For Chicken :
Bonless chicken 1/2 kg (cut into bite size peices)
Oil 4 tbsp
Zeera 1/2 tsp
Ginger/garlic paste 1 tsp
Pounded red chillies 2 tsp
Salt to taste
Tumeric 1/2 tsp
Garam masala powder 1/2 tsp
Tomatoes 3-4
Spaghetti 1/2 pack
Preparation:
Karhi:
Put baisan, yogurt, tumeric, salt, green chillies, red chilli poweder and water in a blender and blend to a fine paste. In a pan add oil and zeera to it. When zeera is a bit fried add the blnded paste to the pan. Keep stirring until it gets a bit thicker. Add more water and let it cook on low heat for 2 hrs. You might have to keep adding water as it tends to get thick on flame. Take it off heat after 2 hrs and karhi is ready. It should be quite thin.
Chicken:
Heat oil in a pan and add zeera. After a minute add Red chilli powder, ginger/garlic and salt to it. add a few teaspoons of water. Now add haldi and garam masala to it along with the chicken. Now keep cooking untill chicken is done. Add the tomatoes and keep cooking until totmatoes are reduced to a pulp. Now add ketchup to it. Mix it properly and take it off the flame. Chicken is now ready.
In a seperate pan boil water and add a few drops of oil. Add spaghetti to it and let it boil till done. When done transfer to a stainer and keep under cold water. By doing so u can prevent the spaghetti from sticking together.
In a pan heat oil an fry filo pastry which is broke into little pieces.
Finally take out spaghetti in a dish pour karhi over it and add chicken. top it with the small crunchy filo pastry, fried onions and finely cut green chillies. Its ready to be served.
You can also place everything in seperate bowls and your guests can make their own plates according to their taste.