Khaibri Biryani
Rating: 5/5 - Votes: 1 - Views: 16683
Boiled rice layered with undercut marinated in flavorful spices.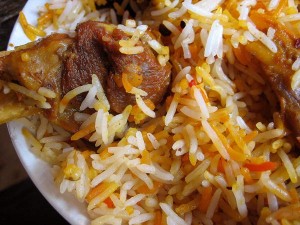 ---
Total servings:
5
Calories:
Pre-Prep time:
15-20 min
Preperation time:
30 min
Occasion:
Any
Cuisine:
Pakistani
Effort:
Easy
Best for:
All
How to serve:
Hot
---
Ingredients:
750 gms fillet of Beef under cut thinly sliced 1/2 cup Oil or Ghee
500 gms Rice soaked for 1 hour and boiled with 3 tsps Salt and whole spices till halfcooked.
dash of Kewra
Coriander and Mint leaves chopped
1 tsp All Spice
4 Mace
8 10 Green Chillies
1/2 cup crushed brown Onions
Cloves 6
MARINADE
1 tsp Salt
2 tsp Red Chilly powder
2 tsp Ginger / Garlic
1 tsp Cummin powder
1 tsp Coriander powder
1/4 Nutmeg grated
6 Green Cardamoms
1 & 1/2 cups Yoghurt whipped
Saffron
Preparation:
Mix all the marinade ingredients.
Cover the beef slices with the marinade and set aside for at least 2 hours. Spread the beef slices evenly in a heavy bottomed pan.
In a small pan heat the oil with the cloves and pour it over the meat.
Spread the boiled rice evenly over the meat.
Sprinkle kewra on top. Cover the pot.
Place it on a griddle and cook over a medium heat for 1/2 an hour.
Garnish with coriander and mint leaves.