Keema, Aalo, Matar Tahari
Rating: 5/5 - Votes: 1 - Views: 21498
Tahari is a popular Pakistani rice dish in which rice cooked in a curry based on minced meat, aloo and matar.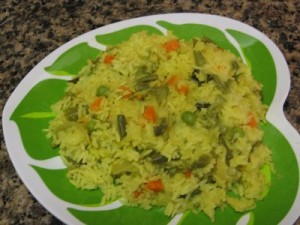 ---
Total servings:
2-4
Calories:
500
Pre-Prep time:
15 mins
Preperation time:
20 mins
Occasion:
Any
Cuisine:
Pakistani
Effort:
Easy
Best for:
All
How to serve:
Hot
---
Ingredients:
Minced meat(beef or veal)1 lbs (coarsely minced)
Allo 2 --4 cutted into cubes (make 4 cubes of 1 allo)
Matar :2 cups
Ginger and garlic paste:1 tsp
Tomatoes:2 chopped
Green chillies:6 slitted from middle
Chaat masala:2 tsp
Salt:up2 taste
Onions:1 medium sliced thinely
Mustard seeds:1/2 tsp
Zeera (cumin seeds):1 tsp
Oil:1 cup
Dried red pepper chopped:1tsp
Tumeric powder or haldi:2tsp
Rice:soaked in water for 1/2 hr:2 cups
Preparation:
Take oil in large pot and make it hot.
Then add mustard seeds and zeera to it and let it stir for a while.
Add onions until get light brown.
Now Add keema (minced meat in it along with ginger and garlic paste and let it cook for 3 to 4 mins or until meat water evaporates.
Then add salt,red pepper flakes, haldi, chaat masala and add 1/2 cup water and let the keema cook first for abt 5 mins.
When keema gets tender add Aaloo, matar, green chillies and tomatoes in it. Cover the pot and let it cook until aalo get tender.
Now add presoaked rice in it and add water about half cup (or one inch above the rice in pot) and let it cook covered for 10 mins on medium flame.
After ten minutes when rice will be cooked turn the flame on low and let it simmer for 10 more minutes.
Tahari is ready to serve.
Serve it with achaar or salad or yoghurt chutni or green chutni..