Junglee Pulao
Rating: 4/5 - Votes: 2 - Views: 24642
Junglee pulao presents a delightful assortment of aroma, flavour and taste. The rice is cooked with whole spices and chicken. Tastes great with raita and salad.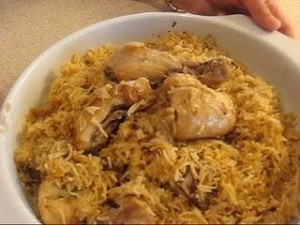 ---
Total servings:
4-5
Calories:
Pre-Prep time:
Preperation time:
45 min
Occasion:
Any
Cuisine:
Pakistani
Effort:
Average
Best for:
All
How to serve:
Hot
---
Ingredients:
Chicken 1 kg
Basmati rice 1/2 kg
Onions (finely cut) 2
Tomatoes chopped 2
Bay leaves 2
Cardamoms 3
Cloves 8
cinnamon 2 pieces
Ginger/garlic paste 2 tsp
Red chilli powder 1 tsp
Whole black pepper 1 tsp
Turmeric powder 1 tsp
Cumin powder 1/2 tsp
Coriander powder 1/2 tsp
Hot spices powder 1/2 tsp
Fresh coriander 1/4 bunch
Salt to taste
Oil 1/4 cup
Water 3 cups
Preparation:
Soak rice for 15 minutes. Heat oil in wok.
Fry onions, ginger/garlic, bay leaves, cardamoms, cloves and cinnamon in a frying pan.
Add tomatoes and chicken and cook for 5 minutes.
Add red chillies, black pepper, turmeric powder, cumin, coriander, hot spices and salt. Fry for few more minutes.
Boil 3 cups of water in a pot, add rice, prepared chicken mixture and fresh coriander.
Cook over high flame.
When the water dries, keep on dum for 15 minutes.
Delicious Junglee Pulao is ready. Serve with raita.