Hara Masala Chicken
Rating: 3/5 - Votes: 10 - Views: 38985
Green Spice Chicken. Serve hot with rice or naan.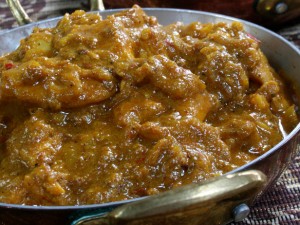 ---
Total servings:
6-8
Calories:
Pre-Prep time:
25
Preperation time:
50
Occasion:
Any
Cuisine:
Pakistani
Effort:
Average
Best for:
All
How to serve:
Warm
---
Ingredients:
2 medium onions,thinly sliced
200g yogurt
a bunch of fresh coriander/100 g coriander leaves
100g fat green mild chillies (about 6 large ones)
1 tsp cumin seeds
4-5 cloves
6-8 whole black pepper
2 large cardamom
1 tsp ginger garlic paste
500-750 g chicken pieces
salt
1/4 cup oil
1 tbsp julienne's ginger
Preparation:
Heat the oil in a pan over medium heat.
Add the sliced onions and fry till golden brown.
Remove onion from the oil and put in blender or food processor.
Cut off the stalk ends of the chillies, chop them into rough pieces and put them in blender.
Pick the leaves off the coriander and drop them into the blender.
Add yogurt and blend to a puree.
Add the chicken to the oil.
Increase the heat to between medium and high and fry the chicken for 5 minutes.
Add ginger and garlic paste, cumin seeds, cloves, black pepper and cardamom.
Stir in yogurt mixture, garlic and salt.
Add 1/2 cup water and cook until chicken is done.