Gosht Pulao
Rating: 3/5 - Votes: 7 - Views: 52330
Aromatic combination of rice and meat( which boiled with all spices and then fried with onions, cumin seeds etc).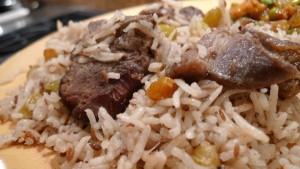 ---
Total servings:
3-4
Calories:
Pre-Prep time:
30 min
Preperation time:
25 min
Occasion:
Any
Cuisine:
Pakistani
Effort:
Easy
Best for:
All
How to serve:
Hot
---
Ingredients:
1 pound goat meat
2 onions
6 cloves of garlic
1 ginger (medium, peeled)
1 tbsp whole garam masala
1 teaspoon cumin seeds
2 cups rice
5 cups water
Salt as desired
Dried whole chilies
1/2 cup oil
Preparation:
In a medium pan put peeled garlic, ginger and one onion.
Add meat, garam masala, salt and water.
Let cook for 1 hour or until meat is tender.
Drain and save the soup.
Seperate meat from rest of the ingredients.
In a seperate pot take the other onion and fry in oil until onion is medium brown.
Add meat, cumin seeds, salt and the chillie peppers.
Let everything cook for five minutes. Then add 3-1/2 cup of drained soup and let it come to boil.
Add rice and let cook on medium heat until the water is no longer visible.
Turn heat to low and let simmer for about ten minutes.
Mix well and enjoy.