German Bread
Rating: 3/5 - Votes: 4 - Views: 12925
Here is the great recipe for german bread.I bet it will taste exactly the bread you ever eat outside.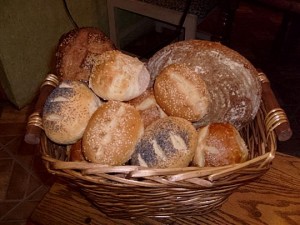 ---
Total servings:
10 persons
Calories:
Pre-Prep time:
Preperation time:
30 mins
Occasion:
Ramadan
Cuisine:
German
Effort:
Average
Best for:
All
How to serve:
Warm
---
Ingredients:
1/2 cup butter
1 package active dry yeast
1/4 cup water, lukewarm
2 each egg, well beaten
1 1/4 cups bread crumbs, fresh
1 teaspoon cinnamon
2 teaspoons butter, melted
3/4 cup sugar dissolved in:
1 cup milk, scalded
5 1/2 cups flour
3 tablespoons brown sugar
1/4 teaspoon salt
Preparation:
Cream together the butter and sugar, add the scalded milk and mix thoroughly.
When lukewarm, stir in the dissolved yeast, eggs and flour (using more flour if necessary to make a stiff batter dough will be sticky and soft).
Beat mixture thoroughly, cover and let rise in a warm place about 11/2 hours or until double in bulk.
When risen, beat again thoroughly.
Grease deep pie pan and sprinkle lightly with flour.
With a spoon, fill the pie pans with the dough. Sprinkle top of cakes with the following mixture: combine the soft bread crumbs with the melted butter, sugar, salt and cinnamon and mix well.
Let cakes rise about 20 minutes and then bake in a Preheated 400F oven about 2025 minutes or until golden.
Brush with melted butter and cool on wire rack.