Garlic Veggie Kababs
Rating: 5/5 - Votes: 2 - Views: 9586
Garlic veggie kababs provide a healthy side dish and a special treat for vegetarians. These are one of the easiest vegetarian recipes to make.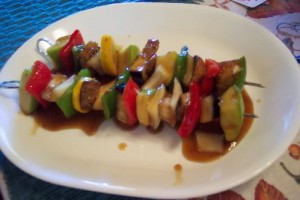 ---
Total servings:
3-4
Calories:
Pre-Prep time:
30 min
Preperation time:
20 min
Occasion:
Any
Cuisine:
Pakistani
Effort:
Easy
Best for:
All
How to serve:
Hot
---
Ingredients:
Carrots 2
Capsicum 2
Onions 2
Tomatoes 2
Ribbed gourd 1
Cauliflower 1
Cabbage 1
Egg palnt 1
Garlic 12 cloves
Egg 1
Cornflour 2 tbsp
Refined flour 1 tbsp
Soya sauce 1 tbsp
Hot sauce 1 tbsp
Crushed red chillies 1 tbsp
Red chilli powder 1 tsp
Salt to taste
Oil 1/2 cup
Preparation:
Dice all the veggies.
Blend together garlic, egg, oil, cornflour, refined flour, soya sauce, hot sauce, both red chillies and salt in blender.
Put blended mixture in a bowl, add veggies and set aside for 1/2 an hour.
Skewer veggies onto sticks and either grill them or fry on a griddle.
Serve tasty garlic veggies with sweet and sour dip.