Fruit Flavoured Creamy Yogurt
Rating: 5/5 - Votes: 2 - Views: 9087
A delicious blend of yogurt and fruit preserve. Serve chilled with fresh fruits.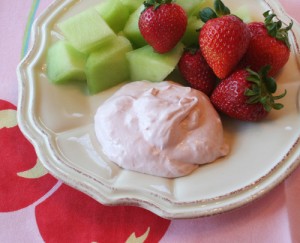 ---
Total servings:
2-3
Calories:
Pre-Prep time:
Preperation time:
5 min
Occasion:
Any
Cuisine:
Pakistani
Effort:
Easy
Best for:
All
How to serve:
Cold
---
Ingredients:
500ml yogurt/dahi
3 tbsp jam/fruit preserve(your choice)I like rasberry
2 tbsp sugar
Preparation:
Depends on the yogurt.
If you have thick yogurt then its great but sometimes we get watery yogurt. In this case use muslin cloth (white netty cotton cloth used to seperate paneer from milk).
Keep yogurt knotted in this cloth for few hours in the fridge till you feel yogurt left is thick.
You will see extra water oozing out.
In bowl add this yogurt and gently mix sugar.
Dissolve the sugar properly.
Take glass cups and fill 1/4 glass with jam and remaining yogurt.
Serve chilled depends on your taste.
It might be too sweet for some and less sweet for others .
Experiment with sugar levels and enjoy this delicious dessert