Fried Chicken With Green Masala
Rating: 5/5 - Votes: 2 - Views: 29631
Chicken pieces simmered in homemade green masala and then pan fried.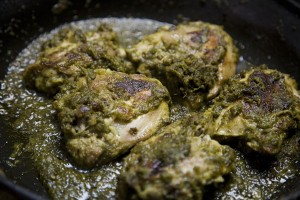 ---
Total servings:
3-4
Calories:
Pre-Prep time:
Preperation time:
1 hour
Occasion:
Any
Cuisine:
Pakistani
Effort:
Easy
Best for:
All
How to serve:
Hot
---
Ingredients:
Chicken: 1
Eggs : 3
Garam masala :2tsp
Salt: to taste
Grind corainder: 2tsp
Green masala ingridients:
Mint, coriander: half bunch(both)green chillies:5
Ginger garlic paste: 1 tsp
Preparation:
Clean chicken and make medium peices.
Mix ginger/garlic paste, grind coriander, salt, in green masala(mint, coriander and green chillies) and grind all of them together and make chutney.
Put chicken in a pan, add water that chicken tender and water dried.
Mix chutney in chicken and cook until chutney also dried with chicken.
Beat eggs and add garam masala in eggs.
Make chicken cold.
Then heat oil in pan and dip chicken piece in eggs and fry all of them until brown.
Serve with fries and salad.