French Toast
Rating: 5/5 - Votes: 3 - Views: 40887
Basic recipe for French toast with eggs and butter.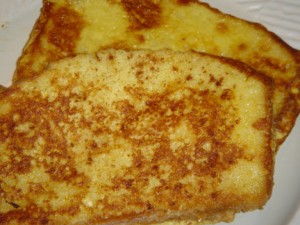 ---
Total servings:
12
Calories:
Pre-Prep time:
Preperation time:
5 minutes
Occasion:
Any
Cuisine:
Pakistani
Effort:
Easy
Best for:
All
How to serve:
Warm
---
Ingredients:
2 Bread slices
1 egg
Sugar 4 tsp
Milk 3 tablespoons
Desi ghee or oil 4 tablespoons.
Preparation:
Take the egg, sugar and milk and mix it in a deep plate.
On the stove heat the desi ghee or oil in a frying pan.
While the oil is being heated dip the toast in the plate one by one and fry in the oil.
The toast should be fully dipped in the egg mixture.
Now fry on low medium heat flip twice.
When the toast is light brown on both sides take it out on a paper towel so it absorbs the oil.
Here are two delicious french toasts ready to be eaten at anytime of the day.