Easy Mango Kulfi
Rating: 4/5 - Votes: 2 - Views: 17498
Mango Kulfi is a popular dessert. Learn how to make Mango Kulfi by following this easy recipe.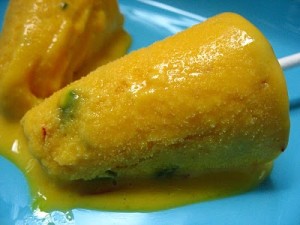 ---
Total servings:
8
Calories:
180 cal/serving
Pre-Prep time:
20 min
Preperation time:
10-12 hrs freezing time
Occasion:
Any
Cuisine:
Pakistani
Effort:
Easy
Best for:
All
How to serve:
Frozen
---
Ingredients:
1 (14oz) can sweetened condensed milk.
1 (16oz) fat free/skimmed milk.
2 tbsp mango puree(i used tinned one but you could use fresh sweet pulp).
Pistachios for garnishing.
Preparation:
Bring the milk to boil in a pan and let it simmer for 15 min on low heat.
Add condensed milk and stir on low heat for around 5 mins.
Take the pan of the cooker and let it cool slightly before adding mango puree.
Strain through a sieve and pour into kulfi moulds/cups.
Once cool cover the container with its lid or use foil to cover and place in the freezer for at least 10-12 hours.
Garnish with Pistachios when serve.