Easy Homemade Baklava
Rating: 3.5/5 - Votes: 4 - Views: 18860
Rich with sweets and nuts Baklava is homemade pastry serve with tradtional varities of green, kashmiri or regular tea.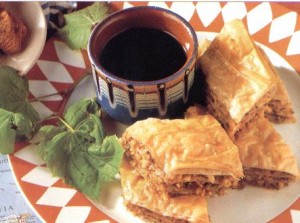 ---
Total servings:
4
Calories:
500
Pre-Prep time:
25 mins
Preperation time:
20 mins
Occasion:
Any
Cuisine:
Asian
Effort:
Average
Best for:
All
How to serve:
Hot
---
Ingredients:
4 ready-made frozen samosa patties
2 tablespoons cornflour dissolved in 1 tablespoon water
For the filling:
1/2 cup chopped walnuts (akhrot)
1/2 cup soaked and chopped figs (anjeer)
1/2 cup soaked and chopped apricots
1/2 cup chopped dates
A pinch cinnamon (dalchini) powder
2 tablespoons honey
2 tablespoons brown sugar
1 teaspoon lemon juice
Other ingredients
Oil for deep-frying
Honey for drizzling
Preparation:
Make a thick paste of corn flour and water. Keep aside.
Cut each samosa patty into 3 to get 75 mm. x 62 mm rectangles.
Mix all the ingredients for the filling together and divide into 6 equal portions.
Place the filling on one rectangle taking care to leave the sides clean.
Place another piece of samosa patti on top and seal the edges using the corn flour mixture.
Repeat with other rectangles to make 5 more baklavas.
Deep-fry the baklavas in hot oil until golden colour. Drain on absorbent paper
Drizzle with honey and serve hot.