Easy Bar Bq Chicken
Rating: 5/5 - Votes: 2 - Views: 17350
Slightly different and easy way of making Delicious bar bq Chicken.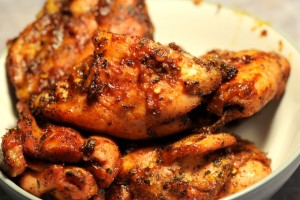 ---
Total servings:
4
Calories:
Pre-Prep time:
Preperation time:
1 hour
Occasion:
Any
Cuisine:
Not Sure
Effort:
Average
Best for:
All
How to serve:
Hot
---
Ingredients:
1 chicken cut to pieces
Vinegar 2 tbspoon
Yellow food color 1 pinch
Red chilli powder 1 tbspoon
Salt to taste
Cumin powder (zeera powder) 1 tspoon
Black pepper 1 teaspoon
Ginger and garlic paste 1 1/2 tbspoon
Lemons 5-6
Preparation:
Mix all the spices, vinegar, ginger/garlic paste and the food colour.
Prick the chicken pcs with a fork.
Take chicken pieces and use lemon halves to rub the spice mixture on the chicken pcs.
Rub all lemons.
After that put these pieces on a griddle (tawa on which we make roti)to dry water in the chicken.
AFter that put these pieces on skewers and cook on stove flame.
Put these pieces in a pan and cover on low flame for some time.
These will taste just like real Bar BQ chicken and save you the hassle of burning coal. and sit infront of the grill.
Serve with chutnee and nan.