Dhaka Fried Chicken
Rating: 4/5 - Votes: 4 - Views: 17508
Fried chicken pieces with sesame seeds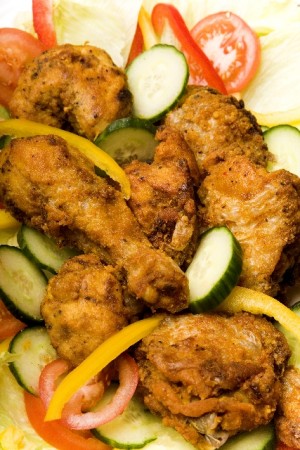 ---
Total servings:
8
Calories:
Pre-Prep time:
15
Preperation time:
20-30 minutes
Occasion:
Any
Cuisine:
Pakistani
Effort:
Average
Best for:
Healthy Eating
How to serve:
Hot
---
Ingredients:
Oil for frying
8 Skinless Chicken pieces
1 1/2 cup All purpose flour (maida)
1/2 cup Corn flour
2 Eggs
2 tsp grinned red pepper (kuti howi lal mirch)
1/2 tea sp mustard powder
1 tea sp black pepper powder
2 tea sp vinegar
1/2 tea sp chinese salt (Ajinomoto)
2 tsp worcestershire sauce (optional)
Salt per taste
Sesame seeds 1/3 cup for applying to chicken pieces in last (before frying
chicken pieces)
Water to make batter of flour mixture
Preparation:
Take A bowl and put All purpose flour (maida), corn flour, eggs and the rest of the dry ingredients.
Pour some water to make a batter of it (Don't make it too thin if it becomes
thin add some more flour).
Mix it well for 5 minutes.
Set it aside for 10 minutes.
Now wash chicken pieces thoroughly.
Let it dry keeping it in any strainer. (you must dry it otherwise the batter will
not stick to pieces) (after dry, apply one deep cut to the pieces (specially
thighs and drumsticks) so the blood come out of the chicken and the batter
absorbed by the chicken).
Put all the Chicken pieces in the batter and toss them evenly.
Meanwhile, put oil in a wok (karahi) and let it heat on a high flame.
To check if the oil is ready for frying take the oil from wok and pour it on a side of wok if it slips faster thats mean the oil is heated. also for checking put drop of batter in oil (but be careful) and check whether oil is heated.
Take a chicken piece turn it two or three time in batter and then toss it in sesame seeds (apply as much as you like).
Put it in oil for frying (put two pieces or three at a time) keep in mind the oil should be completely hot.
Fry all the Chicken pieces on medium heat(otherwise it will be done from outside but inside will remain uncook).
Keep turning them ocassionally and fry them for atleast 10 min or until its cooked from inside and crisp golden brown from outside.
This is a time consuming method but the chicken will be very juicy and much
tasty.
Delicious fried chicken is ready. Serve hot with french fries, salad or however you want. Enjoy!!!!
tip:
(other wise you can boil chicken if you have problems (I mean if the chicken
is not cooked well) If you boil before applying the batter then boil wih some
vinegar salt red pepper and a little garam masala and before applying battter
to chicken pieces dry it first by putting it on strainer or dry it with paper
towels)