Cream Wali Murghi (Creamy Chicken Curry)
Rating: 5/5 - Votes: 2 - Views: 15770
Simple yet easy Creamy chicken curry is loaded with flavors of chicken stock, cream and egg.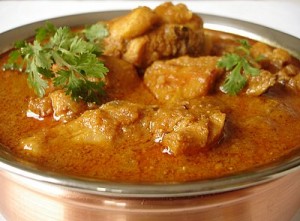 ---
Total servings:
5
Calories:
Pre-Prep time:
Preperation time:
40 mins
Occasion:
Any
Cuisine:
Pakistani
Effort:
Easy
Best for:
All
How to serve:
Hot
---
Ingredients:
Chicken meat 1 kg
Onion finely cut 1
Refined flour 1 tbsp
Stock 2 cups + 4 tbsp
Fresh cream 250 gms
Egg yolks 2
Salt 1 tsp
oil as required
Preparation:
Heat oil in a pot and fry onions till golden brown.
Add chicken and cook until it changes its color, and water dries up.
Add refined flour and cook for 5 minutes.
Add 2 cups of chicken stock and salt. Turn down the heat when the stock dries and the meat is tender.
Mix cream and 4 tbsp of stock in egg yolks. Beat well.
Add to the chicken and cook for few minutes.
Delicious creamy chicken is ready. Serve with boiled rice.