Coconut Barfi
Rating: 4/5 - Votes: 3 - Views: 14036
Sweet, flavorful and chewy, coconut burfi is one of my favorite sweets. Fresh coconut cooked in cardamom flavored sugar syrup.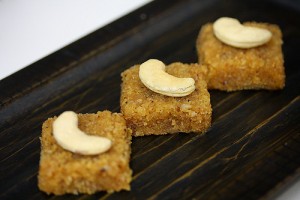 ---
Total servings:
4
Calories:
Pre-Prep time:
Preperation time:
30 min
Occasion:
Any
Cuisine:
Pakistani
Effort:
Easy
Best for:
All
How to serve:
Cold
---
Ingredients:
1 cup coconut
4 cups milk
1 cup sugar
1 tbsp ghee
Preparation:
Add ghee and coconut in deep pan, cook them until light brown/golden colour.
Prepare the sugar syrup in 3/4 cup of water, cook until until it becomes thick.
Now add the the milk and the syrup in coconut that you have prepared.
Cook on low heat until all the milk has been absorbed and the coconut starts leaving the sides of the pan.
Take out in a try and sprinkle some nuts.
Leave it in the fridge for about an hour and then cut in to samll pecies and serve.