Chocolate And Biscuit Pie
Rating: 5/5 - Votes: 1 - Views: 14514
This pie has a base not of pastry but of crushed chocolate biscuits (Graham crackers), mixed with melted butter. The filling contains cream, chocolate and is smooth and silky in texture.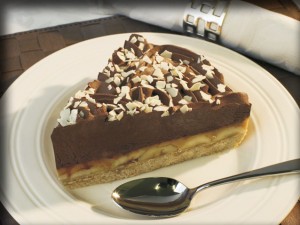 ---
Total servings:
8-10
Calories:
Pre-Prep time:
Preperation time:
90 minutes
Occasion:
Any
Cuisine:
Pakistani
Effort:
Average
Best for:
All
How to serve:
Cold
---
Ingredients:
225 g plain chocolate biscuits, finely crushed
175 g butter, soft
225 g icing sugar
120 g chocolate, melted
150 ml thick cream
Decoration:
200 ml thick cream
60 g plain chocolate curls
Preparation:
Add 60 g butter to the crushed biscuits and blend well.
Press the mixture into the base and partway up the sides of a 20cm (8in) loose-bottomed cake tin, then chill well.
Combine icing sugar and remaining butter (115 g ).
Beat until creamy.
Add melted chocolate and beat until the mixture is thick.
Add thick cream to the chocolate mixture and mix well.
Spread the filling over the biscuit base and chill for about 1 hour.
Decorate with cream and chocolate curls.
Serve chilled.