Chicken Yakhni
Rating: 3.5/5 - Votes: 8 - Views: 71960
Yakhni Soup is a one of most famous and easiest to prepare soups. Yakhni Soup can be prepared with beef as well.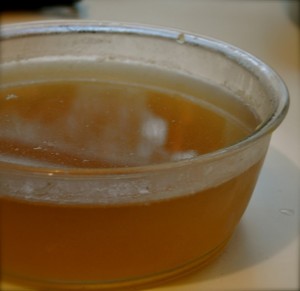 ---
Total servings:
20
Calories:
Pre-Prep time:
Preperation time:
Occasion:
Any
Cuisine:
Pakistani
Effort:
Average
Best for:
All
How to serve:
Hot
---
Ingredients:
2 lb. Chicken quarters
1-2 cloves Garlic
10 oz (or 2 ea.) Onions (smallred)
6 sticks Cinnamon Sticks
1 Tbsp Cumin Whole
1 Tbsp Cloves (whole)
1 bunch Cilantro
1 tsp Black pepper (whole)
4 qt. Water
Preparation:
Get all ingredients together and cut cilantro.
Put water in a utensil and place it on high heat.
Except cilantro, put all the ingredients in water.
Cover the stockpot.
When water comes to boil, turn the heat down and let the mixture simmer.
Strain the soup through cheese cloth.
*chicken pieces can be fried in oil and used in rice*
Put soup in bowls.
Garnish with cilantro leaves.
The Chicken yakni makes 20 servings of 8 ounces each.