Chicken With Capsicum And Potato
Rating: 5/5 - Votes: 2 - Views: 18751
Chicken and a colorful combination of vegetables are quickly stir-fried and served with naan or roti.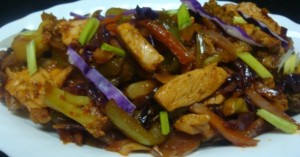 ---
Total servings:
4
Calories:
Pre-Prep time:
Preperation time:
30 min or less
Occasion:
Any
Cuisine:
Pakistani
Effort:
Easy
Best for:
All
How to serve:
Hot
---
Ingredients:
Boneless chicken (cut into cubes of 1 inch) 500 gms
Oil 1 cooking spoon or 1/4 cup
French fries 1 potato
Capsicum 1 small
Tomatoes 3 medium each cut into 8 cubes
Ginger 1 inch piece cut into thin slices
Garlic 2 cloves crushed
Salt 1 teaspoon or to taste
Red chilli 1 tea spoon
Turmeric powder 1/4 teaspoon or less
Black pepper 1/2 tea spoon
Ketchup 1 tablespoon
Yogurt 1 tablespoon
Garam masala 1 tea spoon
Green chilli 2
Corriander 1/2 cup to garnish
Preparation:
Put chicken cubes, tomatoes, capsicum, garlic and ginger in a wok. ( No oil at this stage).
Cook on high flame until the chicken water dries.
Then add salt, red chilli, turmeric, black pepper.
Stir once or twice.
Add oil. After a minute or two add the french fries already fried. cook for sometime until the chicken is done.
Now add yogurt, ketchup and green chillis. Stir once or twice.
Now turn off the heat and add garam masala.
Add fresh corriander to garnish.
Tastes great with roti or nan.