Chicken White Karahi
Rating: 3.5/5 - Votes: 28 - Views: 75733
dont like tomato in your food no problem, this yummy chicken karahi recipe wont let you feel that something is missing.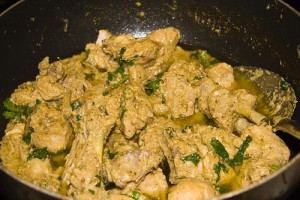 ---
Total servings:
6
Calories:
Pre-Prep time:
15
Preperation time:
20
Occasion:
Any
Cuisine:
Pakistani
Effort:
Easy
Best for:
Healthy Eating
How to serve:
Hot
---
Ingredients:
Chicken small pieces 1-1/2 Kg
Curd beaten 1 cup
Black pepper 1/2 tsp
White pepper 1/2 tsp
Salt to taste
Ginger garlic paste 1 TBsp
Garam masala powder 1 TBsp
Green-onion chopped 3
Green Chillies chopped 4
Ginger slices 1"
Oil 1/4 Cup
Cream to taste (optional)
Preparation:
In a pan take oil.
Saute ginger garlic paste.
Add chicken & fry till color changes.
When little water is left, add green-onion (leave some green part for later use).
Mix green chillies & ginger slices.
Beat curd & mix garam masala powder, black pepper, white pepper, salt & mix it in chicken.
Mix left over green-onion, more ginger slices.
Sprinkle 2-3 tsp fresh cream if you like.
Take out in a bowl.