Chicken Vindaloo
Rating: 5/5 - Votes: 2 - Views: 17702
Chicken Vindaloo is a chili and vinegar based curry with a tantalizing flavor of mustard seeds with turmeric, ginger, garlic and paprika.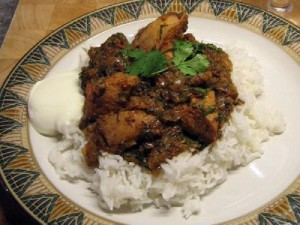 ---
Total servings:
4-5
Calories:
Pre-Prep time:
Preperation time:
20 to 30 mins
Occasion:
Any
Cuisine:
Indian
Effort:
Average
Best for:
All
How to serve:
Hot
---
Ingredients:
Chicken bone less 1kg
Oil 2tbsp or as required
Half tsp mustard seeds(raie)
Half tsp methi dana
3 or 4 bay leaves(kari pata)
2 Onion cut in round shape
Ginger/garlic paste
Salt to taste

Haldi half tsp
Cayenne pepper half tsp
Peprica 1 tsp
Crushed corriander 1 tsp
Crushed cumin 1 tsp
Garm masala 1 tsp
Tomato paste/puri
Cider vinegar 2 tbsp


Preparation:
First of take a oil in fry pan and fry the bone less chicken and when it turn golden brown then take them aside.
In the same oil put the methi dana and bay leaves and mustard seeds (raie)and fry the onion until they will golden brown.
Add haldi, cayenne pepper, paprika, crushed cumin and corriander, salt, garm masala, tomato puri/paste and fried chicken then add water and cooked well in form of a thick gravy.
Add more water as required and in last cider vinegar and cook 5 mins and serve it with roti or naans n enjoy this hot spicy chicken vindaloo.