Chicken Tikka Masala
Rating: 4/5 - Votes: 4 - Views: 32728
A tasty and healthy chicken curry with the taste of yougurt in it spice up your menu.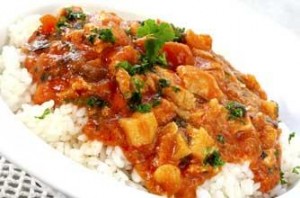 ---
Total servings:
4-6
Calories:
Pre-Prep time:
none
Preperation time:
25-30 min
Occasion:
Any
Cuisine:
Pakistani
Effort:
Average
Best for:
Healthy Eating
How to serve:
Hot
---
Ingredients:
14 oz/400 g canned chopped tomatoes
1 1/4 cups low fat yogurt
8 pieces cooked tandoori chicken
fresh cilantro sprigs, to garnish
TIKKA MASALA
2 table spoon ghee or oil
1 large garlic clove, finely chopped
1 fresh red chili, seeded and chopped
2 teaspoon ground cumin
2 teaspoon ground paprika
1/2 teaspoon salt
pepper to taste
Preparation:
To make the tikka masala, heat oil in a large skillet with a tight-fitting lid over medium heat.
Add the garlic and chili and stir-fry for 1 min.
Stir in the cumin, paprika, salt and pepper to taste and continues stir-frying for about 30 sec.
Stir the tomatoes with their juices and low-fat yogurt into the pan.
Reduce the heat to low and let the sauce simmer for about 10 min, stirring frequently until it reduces and thickens.
Meanwhile, remove all the bones and any skin from the Tandoori chicken pieces, then cut the meat into bite-size pieces.
Adjust the seasoning of the sauce, if necessary.
Add the chicken pieces to the sauce, cover and let simmer for 3-5 min, or until the chicken is heated through.
Garnish with cilantro sprigs and serve.
Any kind of Tandoori Chicken can be used