Chicken Tikka Fry
Rating: 4/5 - Votes: 5 - Views: 28760
Srcumptious Chicken tikka boti cooked in a zesty tomato curry.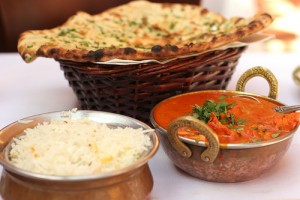 ---
Total servings:
4
Calories:
Pre-Prep time:
Preperation time:
1 hour
Occasion:
Any
Cuisine:
Pakistani
Effort:
Easy
Best for:
All
How to serve:
Hot
---
Ingredients:
1 quantity grilled chicken boti
3 tablespoons yogurt, beaten
1 level teaspoon chili powder
Salt, to taste
1 teaspoon garam masala
1/4 cup oil
1 medium onion, coarsely chopped
1 medium tomatoes, chopped
1 1inch piece ginger, cut into matchstick
3-4 green chilies, thinly sliced
1/4 cup coriander leaves, chopped
Preparation:
Prepare chicken boti.
Combine yogurt, chili powder, salt and garam masala in a small bowl and keep aside.
Heat oil in a karahi over mediumhigh heat. Add barbecued chicken boti, onion and tomatoes. Stirring frequently, fry the chicken boti and during frying, add yogurt mixture little at a time. Cook until the tomatoes are deduced to pulp and oil separates from gravy, about 810 minutes.
Add ginger, green chilies and coriander leaves, stir once and transfer to serving dish. Decorate with lemon slices, onion rings and tomato slices, if wish.
Serve with Nan, Roti.
Variations:
Mutton tikka fry and seekh kabab fry can be prepare in the same way. For seekh kabab fry, cut the kabab into 1 12 inch pieces before frying.