Chicken Shashlic
Rating: 3.5/5 - Votes: 5 - Views: 36632
The Great Dish for Chicken and Rice Lovers. Very simple to cook and delicious to taste. You will love it when you will try recipe.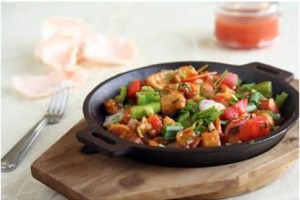 ---
Total servings:
4-5
Calories:
Pre-Prep time:
1 hr
Preperation time:
20 min
Occasion:
Any
Cuisine:
Pakistani
Effort:
Easy
Best for:
All
How to serve:
Hot
---
Ingredients:
Soya sauce 2 table sp
Garlic n ginger paste 2 table sp
Salt n pepper to taste
Tomatoes 2 nos diced
Oil 3 tbsp
Chicken boneless 10 to 15 pieces
Tomatoe ketchup 1/2 cup
Chilli sauce 1/2 cup
Preparation:
Marinate chicken in soya sauce, ginger n garlic paste n salt n pepper for an hour.
Heat oil in a pan put the chiken and tomatoes in it n cook. then add tomato sauce and chilli sauce. bring to a boil untill the chicken turns tender.
Serve with boiled white rice.