Chicken Qorma
Rating: 4/5 - Votes: 14 - Views: 52016
Chicken Korma is Mughlai dish made up of Yoghurt and it is one of very calm and creamy recipes that can be made in less than an hour.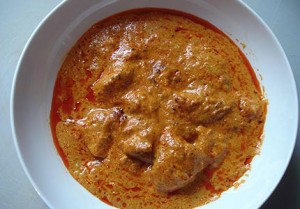 ---
Total servings:
5
Calories:
Pre-Prep time:
15 min
Preperation time:
30 min
Occasion:
Any
Cuisine:
Pakistani
Effort:
Easy
Best for:
All
How to serve:
Hot
---
Ingredients:
1 whole chicken (clean and cut 16 pieces)
1 large onion cut into thin slices
500 gram plain yoghurt
1 tbsp whole gram masala
1 tsp red chillie powder
1 tsp corriander powder
1/2 tsp haldi (turmeric powder)
1 tbsp garlic + ginger paste
1/2 cup oil
salt to taste
Preparation:
Wash the chicken.
Fry the onoins and take them out on a piece of paper towel, set them aside.
Now in the same oil fry the whole gram masala and the ginger and garlic paste, add the chicken cover and cook for 2 minutes.
After 2 minutes are up add all the dry ingriedients (salt, haldi, dhania powder), cook until the oil comes up and chicken is half done.
Now in a grinder add the onions and the youghurt, add some illachi(small cardimons) to it grind until it turns in to a paste, add to the chicken cook until it turns in to a gravy and oil shows up, serve with naan.