Chicken Nizami
Rating: 3.5/5 - Votes: 7 - Views: 27309
A traditional dish, very easy to cook and has great taste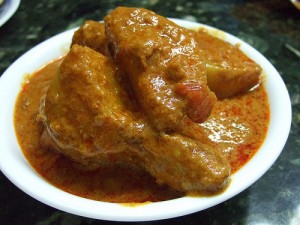 ---
Total servings:
5-6
Calories:
Pre-Prep time:
Preperation time:
1 hr
Occasion:
Any
Cuisine:
Pakistani
Effort:
Average
Best for:
All
How to serve:
Hot
---
Ingredients:
2 inch piece of Cinnamon
1 tbsp hot milk
1/4 cup oil
1 medium onion chopped
1 tsp ginger / garlic paste
2 bay leaves
1 & 1/2 kg chicken cut into 8 pieces
1/2 cup water
4 green chillies
1/4 cup Soconut soaked in 1/2 a cup of hot water
Coriander leaves roughly chopped
4 tbsp Yoghurt whipped
1/4 tsp saffron
4 tbsp cream whipped
GRIND ALL:
1 tsp cummin seeds
1 tsp poppy seeds
3 cardamoms
4 cloves
10 dried red chillies
1/4 tsp turmeric powder
2 tbsp coconut dessicated
Preparation:
Put together all the ingredients from the cummin seeds to the cinnamon nad grind to a fine paste.
Extract the milk from the soaked coconut ands ser aside.
Heat the saffron for 2 seconds in the microwave or on a girddle, crush it, and soak it in the hot milk.
Heat the oil and fry the onion till it is golden brown.
Add the ginger / garlic and fry for couple of minutes.
Add the ground paste and bay leaves.
Let it simmer for 5 minutes.
Put in chicken pieces and 1/2 a cup of water and continue cooking, for
approximately 20 minutes, over a low heat. When the chicken is almost cooked, add the coconut milk, green chillies, coriander leaves and yogurt. Cook till the chicken is tender.
Add the cream and saffron.
Simmer for 3 minutes or until the gravy gets a creamy consistency.
Garnish with coriander and serve with chapattis..