Chicken Lasagna
Rating: 3.5/5 - Votes: 11 - Views: 37154
This Heavenly Chicken Lasagna recipe is the ultimate creamy and satisfying comfort food. The perfect meal on a chilly night.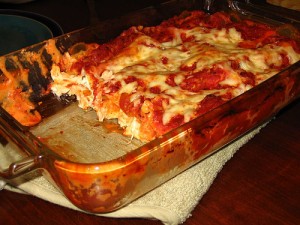 ---
Total servings:
5-6
Calories:
Pre-Prep time:
Preperation time:
45 minutes
Occasion:
Any
Cuisine:
Mexican
Effort:
Easy
Best for:
All
How to serve:
Warm
---
Ingredients:
One packet of lasagna boiled in salty water n cooled.
One packet of mozeralla cheese
Ingredients for chickes sauce:
1/2 kg chicken shredded
Oil 2 tsp
Chopped onion 1 nos
Garlic powder 1 tsp
Salt to taste
Red chilli powder 1 tsp
Black pepper 1 tsp
Tomato sauce 1 cup
Ingredients for white sauce:
Margarine 1tbsp
Maida 2 tbsp
Cornflour 1 tbsp
Milk 1/3 cup
Cream 1 cup
Preparation:
Method for CHICKEN SAUCE:
heat oil in a pan, golden brown onions, then add chicken to it cook for 2 to 3 minutes then add garlic powder and salt then cook for 2 minutes then add red chilli powder, black pepper and tomato sauce. Cook for two moew mintes and the chicken sauce is ready. Now place it aside.
Method for WHITE SAUCE:
heat margarine then maida and turn off the heat. Then add cornflour and milk, thicken it and cool it. After cooling it add cream. And the white sauce is ready!
TO ASSEMBLE LASAGNA:
Take an ovenproof dish put a layer of the boiled lasagna, then a layer of white sauce then a layer of chicken sauce; repeat it and on top of it put sum mozerella cheese. Preheat over to 180 C n bake untill the cheese turns brown~~