Chicken Kebab
Rating: 5/5 - Votes: 1 - Views: 21035
Minced Chicken Kebabs made with a blend of spices, mustard sauce and green chillies.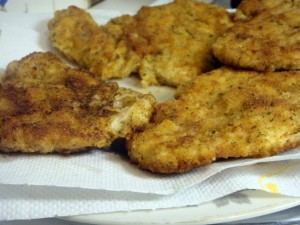 ---
Total servings:
3-4
Calories:
Pre-Prep time:
Preperation time:
15 mins
Occasion:
Party
Cuisine:
Pakistani
Effort:
Easy
Best for:
All
How to serve:
Hot
---
Ingredients:
1 kilo chicken qeema
1 1/4 tsp salt
4 Green chillies(chopped)
1 tsp Garam masala
1/2 tsp Black pepper
a little ajwaine
1/2 tsp red chillie powder
2 onions(finely chopped)
a little Dhania
1 tsp Chinese salt
1/2 tsp mustard cream
2 tbsp maida
Preparation:
Add the above ingredients in one kilo qeema then chop it in the chopper.
The more u chop the better it mixes.
Finally add ajwaine. Make small patties and deep fry and serve with ketchup and fries.