Chicken Kababs
Rating: 4/5 - Votes: 8 - Views: 38541
chicken chunks alternating with onion, tomato and pepper, served with pita bread will be mouth watering for lunch or even a snack.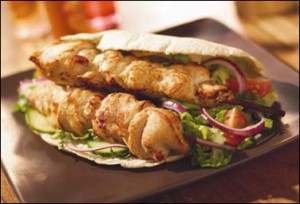 ---
Total servings:
Calories:
Pre-Prep time:
Preperation time:
Occasion:
Any
Cuisine:
Not Sure
Effort:
Easy
Best for:
All
How to serve:
Not Sure
---
Ingredients:
1 kilo boneless chicken
1 large onion finely chopped
3 green chillies finely chopped
a little fresh dhaniya also finely cut
2 slices of bread soaked in milk and squeezed so no milk remains.
salt according to taste
red chilli powder half a tsp.
garam masala 1 tsp.
Preparation:
Take the boneless chicken and put it in a chopper and mince it.
keep in mind that when you wash the chicken drain all the water.
Add all the ingredients and mix thouroughly.
Fry a little in oil to see if the salt is according to taste.
Now make long Kababs or however you like your kababs to be.
Then keep it in the fridge or out at room temp for atleast half an hr before frying.
Then fry them in a little oil.
Don't deep fry.
Chicken cooks more quickly than beef or lamb so the frying will be quick and easy.
Serve or wrap in a pita bread with lettuce tomatoes n onions.
Excellent in taste with imli or podina chatni.