Chicken Jalfrezi
Rating: 3/5 - Votes: 6 - Views: 40276
This filling chicken recipe can be a meal if you serve it with white rice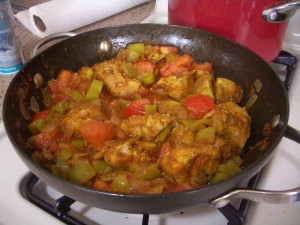 ---
Total servings:
4-6
Calories:
Pre-Prep time:
none
Preperation time:
35 min
Occasion:
Any
Cuisine:
Asian
Effort:
Average
Best for:
Healthy Eating
How to serve:
Hot
---
Ingredients:
4 tablespoons ghee or vegetable or peanut oil
8 skinless, boneless chicken thighs, sliced
1 large onion, chopped
2 tablespoons garlic and ginger paste
2 green bell peppers, seeded and chopped
1 large fresh green chili, seeded and chopped
1 teaspoon ground cumin
1 teaspoon ground coriander
1/4-1/2 teaspoon chili powder
1/2 teaspoon ground turmeric
1/4 teaspoon salt
14 oz/400 g canned chopped tomatoes
1/2 cup water
Preparation:
Melt half the ghee or oil in a wok or karahi over medium-high heat.
Add the chicken pieces and cook.
Stirring frequently for 5 minutes until browned but not necesssarily cooked through.
Remove from the pan and reserve.
Take the remaining oil or ghee in the pan.
Add the onion and cook, stirring frequently for 5-8 minutes until golden brown.
Stir in the ginger and garlic paste and continue cooking for 2-3 minutes.
Add the bell peppers to the pan and cool for 2 minutes.
Stir in the finely chopped chili to taste, cumin, corriander, chili powder, turmeric and salt.
Add the tomatoes with their juices and the water and bring to a boil.
Reduce the heat to low, add the chicken, and let simmer, uncovered for 10 minutes.
Stirring frequently, until the bell peppers are tender, the chicken is cooked through and the juices run clear if you pierce a few pieces with the tip of a knife.
Serve sprinkled with chopped cilantro and garnished with whole chilies.
Enjoy!!!!!