Chicken Jalferazi
Rating: 4/5 - Votes: 3 - Views: 32529
Chicken Jalfrezi is one of the common dish serve with white rice. This is a colourful and incredibly yummy dish.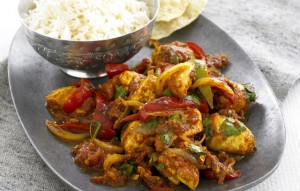 ---
Total servings:
4
Calories:
Pre-Prep time:
Preperation time:
1/2 hour
Occasion:
Any
Cuisine:
Pakistani
Effort:
Easy
Best for:
All
How to serve:
Hot
---
Ingredients:
half kg boneless chicken breast, cut them into small cubes
2 tomatoes, chopped
1 tomato sliced
1 medium sized onion sliced
1 capcicim sliced
1/4 tsp garlic paste
1/4 tsp ginger paste
1 Tbs corriander powder
1/4 tsp shaan jalferazi masala
1/4 tsp garam masala
2 chopped and fried onions
Preparation:
Take 4 tbsp oil in pan and add chopped tomatoes, garlic and ginger paste, corriander powder, and fried onions.
Let the tomato soften and let it cook for 5 min.
Add washed bonless chicken to it, and let it cook for 10 min with lid.
Occcasionally see to check that chicken does not stick the pan.
After it has become tender keep the pan aside.
In another pan add 2 tbs oil and put sliced tomato, onion, capcicim, garam masala powder and salt.
Cook till the vergetables become soft.
Then add chicken to it and let it cook for another 2 to 3 min.
Serve hot with nan and raita