Chicken Jalfarezi
Rating: 3.5/5 - Votes: 11 - Views: 65136
Chicken curry with fresh tomato, butter and a blend of spices. Recipe that you will love to cook due to its easy way.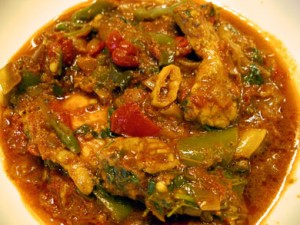 ---
Total servings:
9
Calories:
Pre-Prep time:
Preperation time:
30 min
Occasion:
Any
Cuisine:
Pakistani
Effort:
Average
Best for:
All
How to serve:
Hot
---
Ingredients:
3 lb. Chicken breastboneless
8 oz Green Pepper
8 oz Tomato
8 oz Onion (RedLarge)
1 t Cumin Seed
10 Garlic cloves
2 oz Ginger root
2 oz Green Chili pepper
2 t Salt
1 t. Red Chili powder
t Turmeric Powder
8 oz Butter solids
bunch...... Cilantro
Preparation:
Gather all ingredients
Cut chicken in to 2 x inch pieces.
Dice 6 oz tomatoes, 6 oz onions & all green peppers into 1" pieces.
Melt butter in a wok (or hotel pan or other thin utensil)
Finely cut 2 oz onions.
Finely dice garlic cloves and make a paste.
Add chicken pieces, finely cut onions, cumin seeds, salt & garlic to butter and mix well
Cover and let the chicken steam at medium heat. Stir occasionally.
Finely chop remaining 2oz tomatoes.
Cut ginger into julienne.
Wash cilantro and separate leaves from stem.
Remove cover. Add red chilies, turmeric powder, green chilies & finely chopped tomatoes.
Mix well and let the chicken cook in this mixture at medium heat until almost all water has evaporated.
Add julienne garlic when half the water has evaporated.
Add diced green peppers, onions & tomatoes and mix.
Turn off heat and add cilantro. Cover.
Keep the cover in place for at least 5 minutes.
****** Makes 9 servings of 5 oz. each*****