Chicken Classic
Rating: 2/5 - Votes: 3 - Views: 15490
Boneless Chunks of Chicken cooked with ginger/garlic and tomatoes garnished with green peas.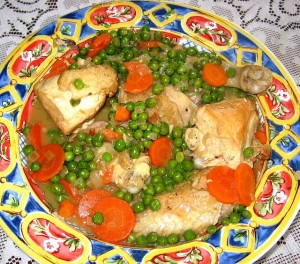 ---
Total servings:
3-4
Calories:
Pre-Prep time:
Preperation time:
25 min
Occasion:
Any
Cuisine:
Pakistani
Effort:
Easy
Best for:
All
How to serve:
Hot
---
Ingredients:
1 kg Chicken(boneless, skinless thighs)
2 tbsps. Vinegar
2 tbsps. Soy Sauce
6 tbsps. Corn Flour
1 no. Egg
1 tsp. Black Pepper
+ tsp. Mustard seeds (yellow)(powdered)
Salt to taste
6 leaves Curry Leaf
1 tbsp. Garlic
1 tsp. Ginger
2 tsps. Red Chilies(paste)
500 gms. Tomato(diced)
400 gms. Tomato Sauce
2 tbsps. Ginger(finely chopped)
4 tbsps. Vegetable Oil
250 gms. Peas
For Garnishing :
34 nos Curry leaves (intact with stalk)
2 nos Green Chillies (cut lengthwise)
1 Lemon (cut into wedges)
Ginger, julienned
Coriander leaves (chopped)
Preparation:
Wash, clean and cut the chicken into medium size pieces. Mix it with the vinegar, soy sauce, corn flour, egg, black pepper, salt and mustard powder. Marinate for two hours.
Deep fry the marinated chicken pieces taking care not to stick each other and keep aside.
In a sauce pan heat oil, add curry leaves and ginger/garlic paste and fry till light brown.
Now add red chilli paste and tomatoes, when cooked add the tomato sauce, chopped ginger and fried chicken pieces.
Mix well, cover the pan and cook for 15 minutes on very low flame.
Meanwhile, heat 1 tsp oil in a frying pan and lightly fry the green peas, sprinkle a pinch of salt and keep aside.
Now dish out the chicken in a shallow bowl. place the green peas all around the chicken (should not be over the chicken).
Garnish with curry leaves at one corner, green chillies at another and lemon wedges at third corner.
Sprinkle julienned ginger followed by chopped coriander leaves over the centre part of the chicken.
Serve hot.