Chicken Balls
Rating: 3.5/5 - Votes: 3 - Views: 26989
A comfort food in which shredded chicken mix with bread slices and deep fried in the form of balls.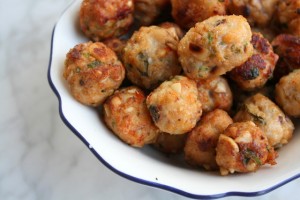 ---
Total servings:
4
Calories:
Pre-Prep time:
20 min
Preperation time:
15 min
Occasion:
Any
Cuisine:
Pakistani
Effort:
Easy
Best for:
All
How to serve:
Hot
---
Ingredients:
1 Chicken of 1 & 1/4 kg
Ginger / Garlic 1 tsp
Salt 1 tsp
Pepper 1 tsp
3 Bread slices soaked in water
Worcestershire sauce 2 tbsp
Ajinomoto 1 tsp
Eggs 2
Bread Crumbs
Preparation:
Boil the chicken, with all the seasonings and some water.
Till the chicken becomes tender and thick gravy remains.
Now shread the chicken and remove bones.
Mix the soaked slice of bread in chicken and add 1 beaten egg.
Mix well and form balls. Dip the balls into beaten egg and roll in crumbs.
Fry in deep oil till golden