Chicken And Vegetable Kebabs
Rating: 3.5/5 - Votes: 3 - Views: 20170
Grilling meats and vegetables on skewers is simple and quick. Grilling the kebabs on a griddle makes the cooking even easier. Either way it tastes great.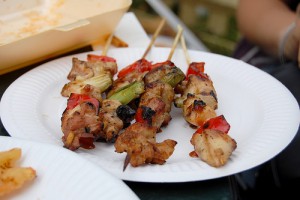 ---
Total servings:
4-5
Calories:
Pre-Prep time:
Preperation time:
1 hour
Occasion:
Any
Cuisine:
Pakistani
Effort:
Average
Best for:
All
How to serve:
Hot
---
Ingredients:
Boneless skinless Chicken 1 pound
2 Potatoes
2 Tomatoes
2 Bell Peppers
Bamboo Skewers
For Masala:
Yogurt 1/4 cup
Ginger and garlic paste 1 tsp. each
Green chilli paste 1 tsp.
Cumin powder 1 tsp.
Coriander powder 1 tsp
Aniseed 1 tsp.
Turmeric powder 1/4 tsp.
Chilli powder to taste
Garam masala 1/4 tsp.
Salt to taste
Lime juice 2 tsp.
Red/Orange Color
Preparation:
Mix all masala in the yogurt and keep for about 10 minutes.
Marinate the chicken and vegetables with the mix for about an hour and store in the refrigerator.
Pierce through the skewers alternate pieces of chicken and vegetable
Place on a barbecue grill or bake in the oven for 15 minutes.
Remove from heat and coat the pieces with the remaining marinade.
Now turn the Oven to 'Broil' for another 5 to 10 minutes until the chicken is cooked and fried well.
Serve hot.