Chicken 65
Rating: 3.5/5 - Votes: 13 - Views: 24386
Bonelss chicken pieces marinated in spicy mix, coated in egg and breadcrumbs and then deep fried.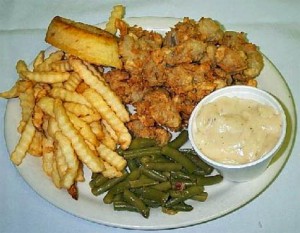 ---
Total servings:
4
Calories:
Pre-Prep time:
Preperation time:
40 min (including marination time)
Occasion:
Any
Cuisine:
Pakistani
Effort:
Average
Best for:
All
How to serve:
Hot
---
Ingredients:
Oil for shallow frying
Boneless chicken strips (1 inch size) 500 gms
For marinade:
Salt to taste
Red chilli powder 1/2 teaspoon ( you can put more according to your own taste)
Black pepper 1/4 teaspoon
Vinegar 2 teaspoons
Coating:
White flour (maida) 1/2 cup
salt 1 pinch
red chilli 1 pinch
mustard powder 1 pinch (optional)
Baking powder 1/4 teaspoon
Egg 1
Bread crumbs to coat
Preparation:
marinate chicken strips for 30 min in the ingredients listed under marinade.
Now coat chicken with flour (mix salt, red chilli, mustard and baking powder in the flour)
then coat chicken in egg and bread crumbs.
Fry in oil till crumbs turn golden brown.
Serve with imlee chutney/ ketchup and french fries.
Tastes great. Guaranteed.
Kids will love it.