Carrot Cake With A Difference
Rating: 5/5 - Votes: 1 - Views: 14019
Carrot cake usually has a soft, dense texture. The carrots mix with nuts themselves enhance the flavor, texture and appearance of the cake.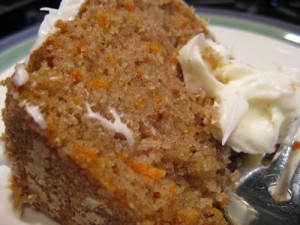 ---
Total servings:
8
Calories:
Pre-Prep time:
Preperation time:
45 min
Occasion:
Any
Cuisine:
Pakistani
Effort:
Easy
Best for:
All
How to serve:
Cold
---
Ingredients:
1 1/2 cup all purpose flour
1/4 tsp Baking soda
1 cup Grated Carrot
1 cup Oil
1 cup shredded coconut
1 tsp vanilla essence
1/2 tsp Elaichi powder
1/4 cup milk
2 eggs
1 1/4 cup sugar
1/2 cup nuts
( shredded almonds,walnuts, cashews & raisins)
Preparation:
Beat eggs Well.
Add sugar, oil, carrots, flour and baking soda. fold well.
Add the remaining ingredients, one at a time. mix all well.
Grease an oven proof dish with butter. Pour this batter( note that the batter is of a thick consistency).
Bake at 400F for 30 minutes.
Check with knife ( it comes out clean if the dish is done).
Cool before serving