Butter Cake
Rating: 4.5/5 - Votes: 2 - Views: 18210
Delish cake in which one of the main ingredients is butter. Butter cakes consist of the most basic of ingredients butter, sugar, eggs and all purpose flour.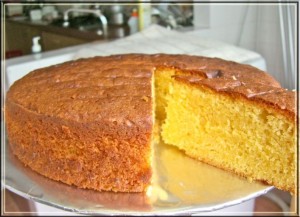 ---
Total servings:
1-4
Calories:
Pre-Prep time:
Preperation time:
1 hour
Occasion:
Any
Cuisine:
Pakistani
Effort:
Easy
Best for:
All
How to serve:
Cold
---
Ingredients:
YOU WILL NEED
FLOUR 200 grams
SUGAR 200 grams
BUTTER 200 grams
VANILLA 2 tablespoons
MILK 2 tablespoons
COCOA 1 1/2 tablespoons
BAKING POWDER 1 teaspoons
EGGS 4
Preparation:
Seive the flour and baking powder twice. (keep it on the side then).
Beat the butter until it becomes white, then add some sugar and one egg and mix it nicely. (Do this simultaneously).
Then add vanilla and milk and mix it well. Now add flour and mix it really well.
Pour batter into prepared pan.
Bake at 350 degrees F (175 degrees C) for 50 to 55 minutes or until cake springs back when lightly touched. Remove from pan and allow it to cool.