Bread Slices In Egg
Rating: 4.5/5 - Votes: 5 - Views: 16956
lightly fried bread slices in egg.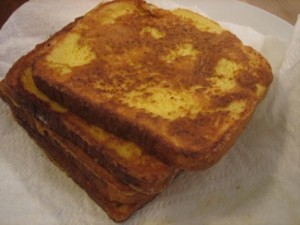 ---
Total servings:
2-3
Calories:
Pre-Prep time:
Preperation time:
10 min
Occasion:
Any
Cuisine:
Pakistani
Effort:
Easy
Best for:
All
How to serve:
Hot
---
Ingredients:
Eggs 3 nos.
Bread slices 10
Garam masala 2 tsp
Coriander leaves 1/2 cup
(ground)Black pepper 1 tsp
Green chillies 4 nos.
Salt to taste
Oil as required
Ginger/garlic paste 1/4 tsp
Preparation:
Beat the eggs well and then add the ground coriander leaves, mashed chillies, garam masala, pepper, and salt.
Mix these well with the beaten eggs.
Heat the nonstick tawa.
Dip 2 slices of it in the mixture and put it in the tawa.
Turn the bread till it turns to golden brown colour.
Follow the same procedure for the remaining bread slices.
Enjoy with ketchup!!!!