Black Pepper Chicken
Rating: 4/5 - Votes: 5 - Views: 25304
Chicken pieces marinated in black pepper, vinegar and other spices.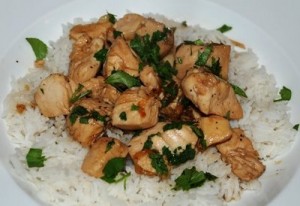 ---
Total servings:
4
Calories:
Pre-Prep time:
Preperation time:
20 minutes
Occasion:
Any
Cuisine:
Pakistani
Effort:
Easy
Best for:
All
How to serve:
Hot
---
Ingredients:
4 Baby Chicken Breast Pieces with shallow meat cuts.
Salt to taste
Black Pepper One table spoon or to taste
Lemon juice 4 table spoons
Yogurt 2 table spoons
Vinegar 1 table Spoon
Ginger and garlic paste 1 table spoon
Oil to deep fry
Preparation:
Mix black pepper, salt, ginger and garlic paste, vinegar,lemon juice and yogurt together till paste is formed.
Marinate chicken pieces in the paste for 2 hours.
Deep fry in the cooking oil till golden Brown.
Serve with Raita or Tomato Ketchup.