Bhindi Pyaz
Rating: 3.5/5 - Votes: 4 - Views: 37952
These crisp fried ladies finger strips tossed with caramelised onions are truly delightful.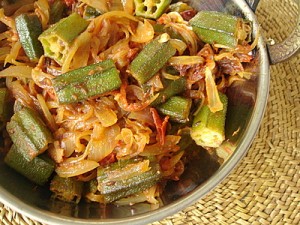 ---
Total servings:
2-3
Calories:
Pre-Prep time:
Preperation time:
30 min
Occasion:
Ramadan
Cuisine:
Pakistani
Effort:
Easy
Best for:
All
How to serve:
Hot
---
Ingredients:
1/2 kg Okra/ bhindi slice into 1/2" pieces. Discard top and end.
2 med. onions
2 med. tomatoes
3 large hot green chilli cut in thing stripes
1/4 cup cooking oil
1/2 ts coriander powder
1/2 ts mustard powder (Huldi)
1/2 ts black pepper powder
salt to taste
Preparation:
In a large heavy base pan, heat the oil over high heat. Add okra and mustard powder and fry for about 5 minutes. Remove from pan and put aside.
Fry onion in the same oil for about 5 minutes.
Add okra(bhindi), chopped tomatoes, green chilli and rest of the ingredients. Cover and cook over low heat for about 15 minutes. Serve with Chapati.