Bhel Puri
Rating: 3.5/5 - Votes: 5 - Views: 38587
Bhelpuri is a puffed rice and potatoes dish usually served with tamarind sauce. It is a popular roadside snack.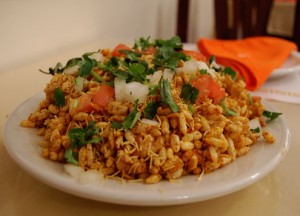 ---
Total servings:
3-4
Calories:
Pre-Prep time:
Preperation time:
30 Minutes
Occasion:
Any
Cuisine:
Indian
Effort:
Easy
Best for:
All
How to serve:
Cold
---
Ingredients:
1 cup potatoes boiled,
peeled and diced
1/2 cup of diced tomato
2-3 onions sliced
1 cup of boondi (see note)
1 cup of preboiled chick peas
12 green chilies chopped.
1/2 cup of chopped fresh dhuniya leaves
Papri according to taste
(chips made of dough)
1 cup plain rice crispies
(Murmuray)
Sweet Imli chutney
Yougurt whipped
Chat masala
Salt
Preparation:
In a bowl combine the potato,tomato,sliced onion,fresh dhuniya,green chilies,boondi and chick peas.
Keep the chutney and yougurt in separate bowls to be added according to taste.
In another bowl combine the papri and rice crispies.
You can also add a handful of plain corn flakes to make it cunchier.
To serve, in a plate add the vegetable mixture.
Top with the dry ingredients mixture.
Add yogurt, chutney, salt and chat masala according to taste.