Beef, Lamb Or Chicken Pulao
Rating: 3/5 - Votes: 14 - Views: 67409
Pulao is a popular and cherished Persian dish prepared with basmati rice. You can cook pulao with different types of meat such as chicken or murgh pulao, mutton pulao, beef pulao and even fish pulao. First of all meat is boiled with a variety of spices and then rice and more water added if needed.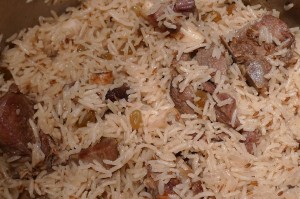 ---
Total servings:
6
Calories:
Pre-Prep time:
Preperation time:
1 hr
Occasion:
Any
Cuisine:
Pakistani
Effort:
Easy
Best for:
All
How to serve:
Hot
---
Ingredients:
1 tbls garlic paste
1 tbls ginger paste
1 onion chopped
1 cinnamon stick
5 cloves
5 whole blk peppercorns
1 tbls red chili powder
1 or 2 lbs meat
1 tbls zeera
1/2 tsp haldi
4 tea cups basmati rice
Preparation:
In a pan, coat with oil and add onion with all spices.
Fry for a few minutes until very aromatic.
If it dries, add a tsp. of water.
Add the meat and add enough water to cover.
Boil for 5 minutes and reduce heat to simmer and simmer until meat is cooked.
(I use a pressure cooker and pressure cook it for about 10 minutes). Meanwhile soak rice for 15 minutes and drain.
Strain the broth from the meat and keep separate.
In same pan as meat, add the rice and pour enough broth over to come just above the rice.
The water shold not exceed 1/4th of an inch over the rice.
Add more water if there is not enough of the broth.
Bring to boil, turn very low (as low as possible)and cover with heavy lid and steam for 15 or 20 min.
Do not lift lid to check. When done,fluff with fork.
Also, if using pressure cooker for meat, don't stir too much because meat will break apart.
Serve hot.