Bbq Chicken
Rating: 3.5/5 - Votes: 6 - Views: 21043
A simple and fast marinade for moist and flavorful chicken breasts.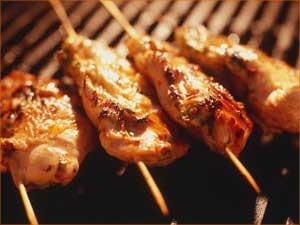 ---
Total servings:
3-4
Calories:
Pre-Prep time:
1 hr
Preperation time:
30 min
Occasion:
Any
Cuisine:
Pakistani
Effort:
Easy
Best for:
All
How to serve:
Hot
---
Ingredients:
6 pieces of chicken breast,
Yogurt 4 table spoon,
Salt according to taste,
Red chilli powder acording to taste,
Garam masala according to taste
Onion 1 medium ,cut in pieces and fry till it turns in light brown color
Oil according to ur need
Coal 1 piece for barbq
Preparation:
Take the chicken breast n cut in cube.
Take a bowl put the cube of chicken in it than add yogurt, salt, red chilli n garam masala.
Mix well.
Marinate for 1 hour in fridge.
Now take pan, pour the oil in it, heat the oil on a medium flame.
Now add all the chicken in it and add light brown onion (crush)
Add half cup of water if u need. Cook for 15 minutes till all the water is removed for the pan.
Now take the hot coal with the help of almunium foil, put on the chicken and add some oil on coal..
Put cover on pan so that it infuses the smoke.
Bar bq chicken is ready to serve. Serve hot with salad and sauces.