Basic Sheer Khurma Recipe
Rating: 1.5/5 - Votes: 3 - Views: 15131
Sheer Khurma is a festival vermicelli pudding prepared on important occasions.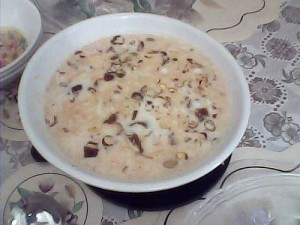 ---
Total servings:
5
Calories:
Pre-Prep time:
Preperation time:
30 min
Occasion:
Any
Cuisine:
Pakistani
Effort:
Easy
Best for:
All
How to serve:
Warm
---
Ingredients:
Milk 1 kg
Dried dates 8
Pistachios 15
Cloves 2
Clarified butter 2 tbsp
Vermicelli 1 cup
Almonds 12
Green cardamoms 6
Sugar 2 cups
Preparation:
Crush the vermicelli. Remove skins from almonds and pistachios and cut finely.
Crush green cardamoms.
De-seed dried dates and cut into 4 pieces each.
Heat clarified butter in a pot and fry cloves and cardamoms.
When they give off aroma, add vermicelli and fry for a few seconds.
Add dry fruits and remove after frying.
Cook milk and sugar together in a pot.
Add vermicelli and dry fruit when the sugar is completely dissolved.
Remove from flame after cooking for a few minutes.
Enjoy!!!!