Barffi
Rating: 3.5/5 - Votes: 8 - Views: 28427
A sweet usually serve on all important festivals in the subcontinent. Here is a quick n easy recipe of making this sweet confection.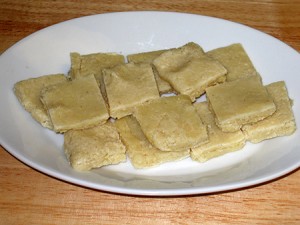 ---
Total servings:
3-4
Calories:
Pre-Prep time:
Preperation time:
30 min
Occasion:
Any
Cuisine:
Pakistani
Effort:
Easy
Best for:
All
How to serve:
Cold
---
Ingredients:
3 Cups milk powder
1 Cup sugar
1 CUP WATER
2 Tablespoon ghee
2 Tablespoon warm milk
1 Teaspoon Cardamom Powder(elachi)
Saffron
Finely chopped almonds
Preparation:
Mix Milk powder with 2 tablespoons of warm ghee and 2 tablespoons of warm milk, and leave it aside.
Add 1 cup of sugar and 1 cup of water in a big sauce pan(patila) and bring the mixure to boil till it turns in to a 1 Tar Chasni(sugar syrup. one thread consistency.)
Then add milk powder cardamom( elachi) powder and saffron in the saucepan and mix it well.
Once the mixure is well mixed, grease the plate (thali) with a bit of ghee and pour the mixure in the thali.
Then sprinkle some chopped coloured almonds and allow to set.
Cut out Barffi into diamond shaped pieces while it is still warm, and serve them cold.
A mouth watering Barffi everyone will be asking for more!!